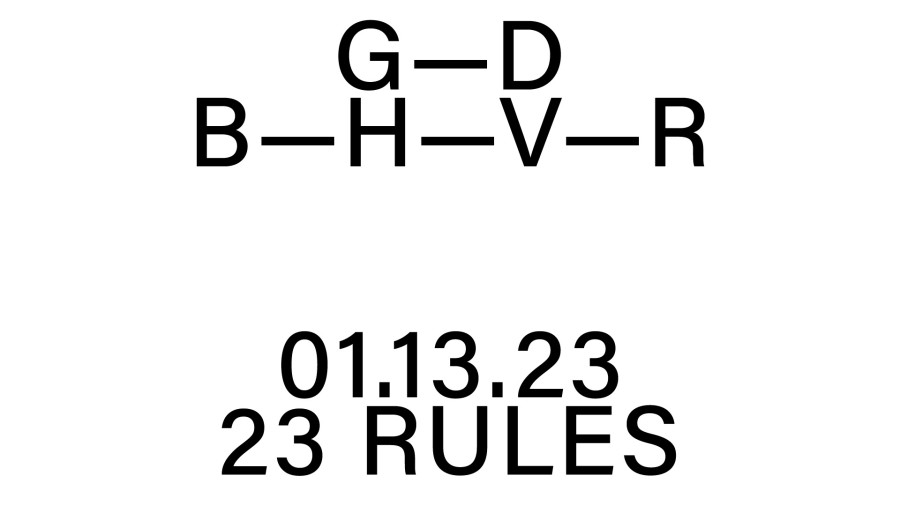 Transmission 02 : Good Behaviour Rules 23
For this new year, we also give our list of things to look out in 23. Call them rules, resolutions, branding tactics..., we prefer to say its our good behaviour resolution 2023.
1. EVEN LEBRON JAMES IS PART OF A TEAM
Design's definitely better when the client is a part of the team. No good work without trust, and we mean, on both sides of the design line. When the client's ready to embark on this design journey, that's where the best work is made.
+
—
2. ASK YOUR MOM
No matter how good the idea or design: if you cannot find the right story to wrap it up, you will never get it into the world. Get your story right by asking yourself a simple question : would your mother understand it?
+
—
3. QUESTION THE UNEXPECTED
Most people think that if something has never been done, or never been done in a certain way, it's a dead-end… For a designer, that's where it all starts.
+
—
4. WHAT IF
This is our first-aid question when we are branded-stuck. This opens new perspectives to move forward and untangle a situation.
+
—
5. SMALL IS BIG
Never underestimate the value of details. When building the great frame, pay attention to the smaller parts because that's where difference can be made. The sum of these piled up details can shape great branding too.
6. PUT YOURSELF IN THE EQUATION
Know yourself and what you believe in. State it. Create a niche. At the end, if you do a good job, your niche will become a comfortable nest.
+
—
7. ASK FOR A SECOND OPINION
When focused on a job there's things that seem obvious to you as a designer, because you dig deeper and deeper in the material. However, the design solutions you come up with may not be as obvious to outsiders as they are to you. So asking your peers every now and then just helps reajusting readjusting your story and sets the right balance.
+
—
8. FREE PITCHES ARE DEAD ENDS
Clients who ask free participation to pitches damage the profession and contribute in lowering the value of branding. Period.
+
—
9. SPONGEBOB & PATRICK
Just like in a couple: for great teamwork, self-knowledge and acceptance along with good communication skills are essential to bring ideas and design to the next level.
+
—
10. FIGHT BOREDING
Stand for uniqueness and fight boring branding.
11. ABSOLUTE BEGINNERS
Cherish the brightness of new thinking, and embrace newcomers as a fresh breed of open minds.
+
—
12. DESIGN IS FORM+CONTENT
Form and content play as one and deliver one powerful message throught design. We never separate form and content from any form of creation : that's the rule of consistency creating the strongest brand stories.
+
—
13. ONE FOR ALL - ALL FOR ONE
Having good players on a pitch is an advantage but keep in mind that it's never the best individualities that win the game, but the best teams. Act and think as one, keeping in mind each player's skills and uniqueness.
+
—
14. THERE IS NO RECIPE
Start from scratch on each branding job: there is no linear structure — the world is spinning fast so reevaluate and adapt constantly to bring the best solutions.
+
—
15. WRITE YOUR OWN FUTURE
We do believe that what will come next has nothing to do with luck, it's all in your hands.
16. ABOUT ORIGINALITY
We believe that originality can spark from a simple detail. You do not have to reinvent everything all the time.
+
—
17. SIDETRACKS
Experimenting is the mother of creation. Leaving the main road to explore new ways is a necessity to find your voice and achieve uniqueness. Don't be afraid to test, trash, re-use.
+
—
18. THE PLAYGROUND
To move brands forward it's good to work, think, design and play. Creativity is a kid in a playground.
+
—
19. THE POWER OF NEXT
What we will do tomorrow is driving us.
+
—
20. JOIN THE FUTURE
Our work is nurtured by the passion of building better things. In that sense, we believe that good always wins at the end. When building a brand, lets join forces for a better future. Be passionate about building better things. Branding is a beautiful tool to join forces for a better future.
21. BRANDS ARE BEACONS
More than ever, we believe brands are trusted life partners. In uncertain times, they come up with creative solutions, services or products that help building a more sustainable, social, inclusive, cultural tomorrow. That's why we love working with them.
+
—
22. TRY
+
—
23. TRY AGAIN